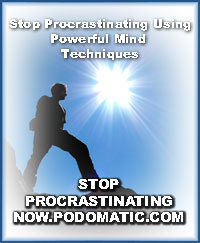 Procrastination is the "Secret" epidemic in today's society that's causing people to run mediocre business, mediocre projects and bottom line mediocre lives. In this podcast you'll learn that it's more a function of what's going on in our minds than a innate personality flaw. There are hundreds of books, cds, and seminars on how to stop procrastinating but none like this one. It's a extremely unique approach to what procrastination is and how it affects us.
In this podcast, Stephan Stavrakis takes you on a journey through the minds of people that have emotional intensity and how that intensity helps them be action oriented.
He will teach you.
What emotional intensity is.
The 2 types of emotional intensity.
To identify with the type you like the most
How to create emotional intensity for yourself.
and another 3 step process to take action on right away to begin your procrastination elimination journey.
Stephan has worked with 1000's of clients through one-one and within his sold out seminars called "Getting Things Done Now" the secret psychology to eliminate procrastination.
Note: Transcript of the Show is now available at http://www.stopprocrastinatingnowpodcast.com